In recent years, the property market in the United Kingdom has grown quickly, which means that knowing which are the best property portals could make a huge difference in selling or buying quickly.
Whether you want to sell a home, or are a potential buyer, when you are searching for properties for sale, it's increasingly likely that you are using a property portal or website.
The sites help homebuyers find reputable estate agents, including an online estate agent, and allows them easily search property listings and offer their own home for sale.
The market leaders are Rightmove and Zoopla who list everything from smart new homes in a prime location, to homes for rent.
But that does not mean you should only use one – or either of them. Property portals offer a range of services, and you might want something different from a property website for meeting needs.
Best property websites in the UK
So, when you need to find the best property websites in the UK, our guide will help highlight the best and also point to some of those sites you may not have heard of previously but are still worth considering.
The property portals listed below are not in any particular order since they offer a range of services and properties for meeting a range of needs.
Rightmove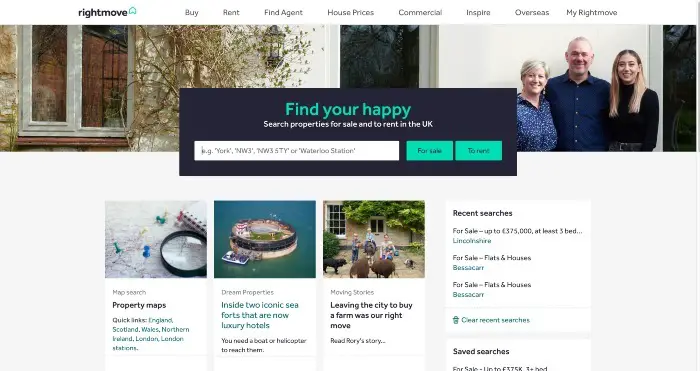 As the leading property website in the UK, it has the largest database of properties for sale and rent – there are around 800,000 at any one time.
The portal is also the most visited of the property websites with huge online traffic numbers to become the UK's largest property website for buying, selling and renting.
Rightmove is probably where you – and your potential home buyer – will begin their property search in the UK. 
Can I put my house on Rightmove?
Yes, along with High Street estate agents and online agents, individuals can advertise a property for sale on Rightmove. You'll need photographs, a valid Energy Performance Certificate (EPC), and you'll need to write the description and publish your advert.
Do all estate agents put their properties on Rightmove?
It's highly likely that your estate agent will advertise your property on Rightmove, along with Zoopla. By doing so, they are advertising on the UK's largest property portal and reaching out to high numbers of potential buyers.
Zoopla
Zoopla offers a useful property portal for those in the UK looking for a property to buy, sell or rent.
The site is very large, and it is useful because it adds market value information which helps prospective buyers research a property and pay the right amount for it.
If you're looking to sell a home, then your estate agent is likely to use Zoopla because of the traffic from potential buyers using it.
While it's not as well-known as Rightmove, the search criteria gives it an edge – want to find a home within a given commuting time? Then Zoopla is for you.
Will my estate agent be using Zoopla?
As a leading property portal, most estate agents have signed up to use Zoopla, and it's one of the best-known UK property websites. 
With millions of property buyers visiting every month, the site uses various search criteria, so property prices, for example, are easily found by potential buyers.
How does the Zoopla estimate work?
Zoopla gives an estimated price range for each property, that's the lower and upper limit of what a home could be potentially worth. This is their way of highlighting that there is not a fixed selling price for your property. This is also a 'confidence level' to illustrate whether a potential price can be reached.
OnTheMarket
While OnTheMarket may not have the research tools found on Zoopla, for example, it does offer ease of use.
The website offers a simple way for searching for property and was created by former estate agents as a portal for buyers to quickly find, and for sellers to quickly sell, a home.
The site also offers homes for sale and rent in other countries too. 
Why use OnTheMarket?
Launched in 2015, OnTheMarket was created by estate agents worried about Zoopla and Rightmove dominating the property portal world. The website offers an extensive property search engine, including a very good smartphone app.
Is OnTheMarket easy to use?
Of all the UK property portals, OnTheMarket offers ease of use – particularly to drill down to find a specific property in a specific location. This also includes overseas properties and farms.
PrimeLocation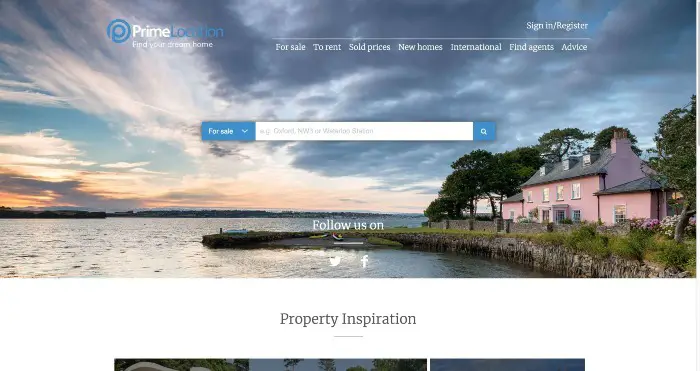 Perhaps the main reason to use PrimeLocation as a property portal is that it offers an easy way to find property around the world.
The search engine function enables users to define the type of property by location, type and value.
The site also offers advice on a wide range of property subjects, and the portal is among the easiest of all to use.
It's also worth appreciating that PrimeLocation only uses certified estate and lettings agents, so there is little chance of being scammed by those who are selling a fake property. 
Is PrimeLocation good for overseas property?
PrimeLocation offers a platform to research homes in the UK, and in more than 60 other countries. From urban to rural living, Prime Location has in-depth research that home buyers will need.
Is PrimeLocation easy to use?
As a UK property portal, PrimeLocation is one of the easiest to use. Leading estate agents use the site to promote everything from luxurious mansions to studios in locations around the world – and in the UK too.
EIG
The Essential Information Group portal is an excellent and quick way to access just about every UK property auction.
Rather than searching hundreds of catalogues and auction websites, it's easy to find homes up for auction and then research a potential property's history to find out when it was sold previously, and how much for.
The site offers a free trial and a useful property auction alert service. If you are new to buying property at auction, the site also offers lots of useful advice and access to potential finance firms.
What is EIG?
For homebuyers and investors, EIG (or Essential Information Group), offers a great way to find property being sold at auction. 
These properties are usually cheaper than you will find in an estate agent's office, but potential buyers should do their homework beforehand – which is where EIG comes in.
Is EIG the best property auction website?
Not only is EIG a leading property auction portal, but the database will offer a guide to house prices where an auctioned property is located – this will help ensure you don't overbid on a property.
Property portals dealing with the UK market
An online search will quickly reveal that there are lots of other property portals dealing with the UK market, and it's worth mentioning some of them.
For those who are interested in buying investment property, or to build a buy to let portfolio, then Rentify is worth considering.
As a property portal, Rentify offers perks for landlords and tenants from helping renters boost their credit rating, to helping landlords find tenants. If the landlord's property is empty for a time, for example, Rentify will pay the rent. The site also offers an effective way to deal with property maintenance issues.
One of the oldest property sites is Home which still has some of the best tools to compare property prices, though the site looks dated when compared with its competitors. Don't let the site's appearance put you off – there's a bang-up-to-date database at work behind the scenes.
There's also Trovit which uses data posted on other property sites – so you don't have to waste time visiting them all, and Nestoria, which is the UK's fifth-largest property website and it too combines listings from other portals.
HomesGoFast offers a portal for overseas and UK property, Nethouseprices is a well-established portal and helps property sellers find estate agents in their area.
Best property portals in the UK
While this guide to the best property portals in the UK is useful – having a reputable estate agent deal with your listing could be money well spent.
They will spend time researching your home to ensure a good description is created, and then put together a showcase of photographs to attract buyers.
A good estate agent will also use their expertise to calculate the asking price to attract a buyer – a difficult issue to judge correctly. 
Placing an advert to sell your home on a property portal is easy – but mistakes are easy to make, especially asking for too much money.
The bottom line for finding out which are the best property portals, is to find a property website that works for you – regardless of the cost for advertising on it. These sites have invested heavily to become the market leaders, and you can benefit from this by selling your home quickly – or finding a quality home to buy or rent.